Story
The two trees come from opposite directions,
but they hold hands and grow together.
The tangled branches are fighting battles while supporting each other.
Details
This piece was hand-carved on a rubber block,
and hand-pressed onto the sketchbook cover using black ink.
The image is approximately 4" × 6" (10cm × 15cm).
Sketchbook dimension is 5" × 7" × 0.5" (13cm × 19cm × 1.2cm).
It has a 300gsm paper cover and 130 100gsm butcher paper colored pages inside.
Due to the handmade process, there will be slight variations in each print,
I'll do my best, hope you won't mind if your sketchbook is a little different than the photos,
and would actually love the organic and unique nature of printmaking.
Process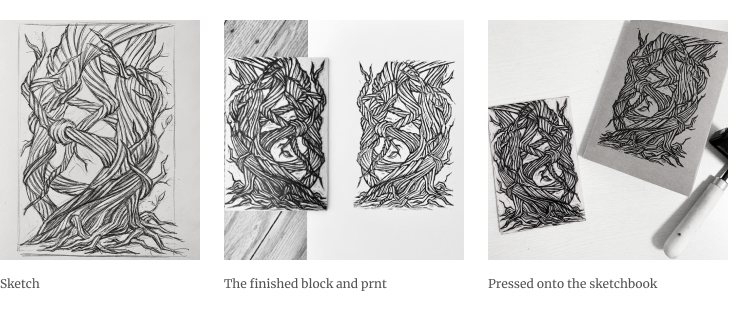 Shipping and Payment
International shipping may cost $5-10 depending on the destination.
Domestic shipping within China is free.
When you check out, you will be redirected to PayPal after submitting your order,
where you could pay securely with your debit/credit card or PayPal account.
If you are in China, due to limited access to PayPal, please use the website's Chinese version and
choose bank transfer as the payment method. Thanks!
More Information
To learn more about payment, shipping etc., check out Store policies and FAQ‍.
If you have any questions, requests or feedback, please feel free to email me at mengdi_prints@sina.com.
Thank you so much for your support!
Previous Over the Mountains / Next S‍ketchbook: Break